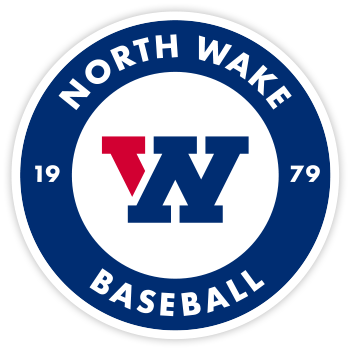 EXCELLENCE IN BASEBALL SINCE 1979
OUR MISSION
The North Wake County Baseball Association is a non-profit organization that has been in operation for over 40 years. During this time NWCBA has held a clear mission of providing positive and memorable baseball experiences for young players in the Triangle area. North Wake has always had the stated goal of optimizing player development through quality practice and age-appropriate competitive playing environments both through leagues and travel team opportunities.
AREAS WE SERVE
North Wake Baseball has dual affiliations with Babe Ruth / Cal Ripken and PONY Baseball. Cal Ripken establishes geographical areas for associations, not to limit participation, but to eliminate competition of an undesirable nature. Exceptions for participation outside of an assigned geographical area would include, but not be limited to, prior participation or participation of an older sibling in a program.
North Wake Baseball is proud to serve the following area in our Cal Ripken Leagues.
* Wake County Zip Codes

- 27522

- 27587

- 27571

- 27596

- 27597

- 27614

- 27613

- 27615

- 27616

- 27604

- 27545

- 27591

NOTE: Geographical areas apply only to league play.

Travel-only players are eligible to play in any area.

Shared Territory between North Wake & West Raleigh

* Durham County

* Johnston County

* Wake County Zip Codes

- 27617

- 27612

- 27609

- 27610

North Wake Boundary

* Granville County

* Franklin County

* Nash County (West of Highway 581)
North Wake Baseball is affiliated with Babe Ruth / Cal Ripken and PONY. Cal Ripken establishes geographical boundaries to eliminate competition of an undesirable nature among neighboring associations or leagues. This is not intended to prevent participation, but to allow associations equal distribution of players. Exceptions include players previously playing outside of the parents' home area or players whose older siblings have played in an association. The assigned geographical area for North Wake Baseball is:
* Wake County Zip Codes

- 27522

- 27587

- 27571

- 27596

- 27597

- 27614

- 27613

- 27615

- 27616

- 27604

- 27545

- 27591

Shared Territory between North Wake & West Raleigh (Yellow Shaded):

* Durham County

* Johnston County

* Wake County Zip Codes

- 27617

- 27612

- 27609

- 27610

North Wake Boundary (Green Shaded):

* Granville County

* Franklin County

* Nash County (West of Highway 581)
The Factory Baseball Complex is located at:
1845 Grandmark Street

Wake Forest, NC 27587
General inquiries may be sent to:
LeagueAdmin@nwcba.com